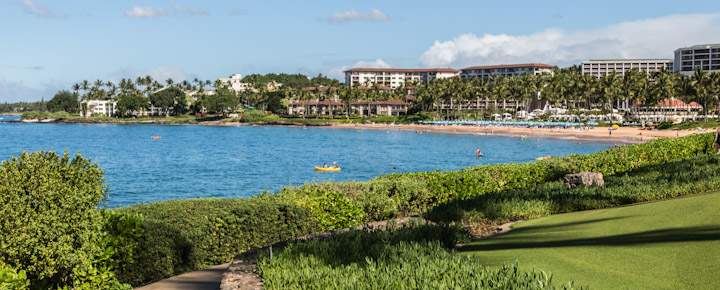 When you start planning a trip to Hawaii, do you book the airline, hotel, or rental car first? Conventional wisdom says the first stop is a plane ticket. But that was before Covid, and now everything has changed. Airbnb CEO Brian Chesky said we got it all wrong this week. And we say he's right. Here's why.
Hotels or vacation rentals in Hawaii can cost 3 to 6 times the price of airfare.
Chesky said that our focus is bad on flights and that we should move from inspiration in Hawaii first, to lodging in Hawaii next, then to airfare. Now, Airbnb has a sharp point of view since they don't sell airfare, but that being said, let's compare the average cost of airfare and accommodation to help gauge his point.
According to Chesky, "I actually think the top of the funnel isn't the flights, it's inspiring people where to travel. It's the first decision you make. Where should I travel?
The common thought was that airfares were so variable from day to day and season to season that we had to find a plane ticket first. We were guilty of booking flights and not even noticing what the accommodation situation would be on arrival for days, weeks or sometimes even months. Fail.
The cost of accommodation is a determining factor in Hawaii vacations.
Hawaii has the highest hotel accommodation rates in the United States. In the latest quarterly data, Hawaii led all other markets with average daily rates of $362. Miami and Phoenix followed Hawaii. For an average vacation of 7 nights in Hawaii, including taxes and fees, that probably equates to $2,990 or more. And if you're staying in South Maui, hotels in Wailea get an average daily rate of $1,000, so a 7-night stay with tax could work out to $8,260 or more.
Airline tickets to Hawaii remain relatively inexpensive.
Economy airfares to Hawaii remain very low, especially in the more competitive and busiest West Coast markets. It's easy to score airfares around RT$300 including taxes and fees, and sometimes much less. So looking at two people, the average cost might be $600. Or, being generous and considering less competitive markets, let's double that and say the price for two is $1,200. Thus, the plane ticket represents at most about 1/6 to 1/3 of the cost of accommodation.
How much do hotel prices in Hawaii vary? A lot!
We have made some price comparisons to illustrate the situation. First, we watched Andaz in Wailea. An upscale property that has widely varying rates. We've found starting rates as low as $754 per night this fall. But if you're moving your fall vacation to January, some nightly rates can go as high as $1,898. For the same room. These before approximately 18% taxes and other fees.
We checked out the Four Seasons Resort Wailea and found drop rates as low as $967. But skip to early 2023, and some of their nightly rates were as high as $1,898. For the same room. Plus taxes and fees.
We also checked out the lower cost, well rated Aston Maui Hill (Condo) complex. There, fall rates started at $490 a night. But in January, rates for those same rooms started at $1,098, more than double. These rates are also before taxes and fees.
And it's not just that rates vary by season. They can also vary within any period only depending on the day of the week. Hotels, like airlines, now have dynamic pricing and adjust their prices daily.
Bottom line – choose your accommodation before the airfare.
Our travel planning has shifted towards accommodation-based planning and away from airfare-based planning.
Do you want to stay in Wailea, or would you be just as happy on the spectacular beaches of West Maui, for example?
The cost of hotels in Lahaina, Kaanapali, and Kapalua are about half, on average, of the hotel rates in Wailea.
Oahu hotels have the lowest average daily rate of $244 for the first quarter of 2022, which was only up 6% from pre-Covid. This is one of the best accommodations in Hawaii.
If you book through the hotel's website rather than Expedia or Booking, you might save money or offer perks. It just reduces the cost of the hotel.
Check into hotel packages for options that include parking, daily breakfast, and resort fees.
Hawaii is a great place to redeem travel points for loyalty programs or credit cards.
By all means, consider and check Hawaii vacation rental rates that include a kitchen and can help further reduce food costs.
Disclosure: We receive a small commission from purchases of some of the links on Beat of Hawaii. These links cost you nothing and provide you with the revenue needed to provide you with our website. Mahalo! Privacy Policy and Disclosures.

#Airbnb #trips #Hawaii #start #lodging #true